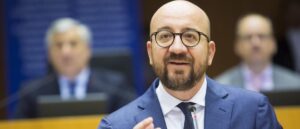 The recent summit of the EU leaders has introduced two innovations in the Union's budget policy that are deemed as very dangerous by most observers and by the R&D community. For the first time the research multiannual planning has €13,5 billions lobbed off its budget –or €18,5 if the cut is calculated by adding the €5 billions cut from the first Michel's proposed cut to the €13.5bn redirected to the Covid-19 recovery fund called Next Generation EU. Horizon Europe became a 'cash cow' in such negotiation.
At the same time, the EU Commission is empowered to borrow directly from the financial markets on behalf of all EU member states. The money will be paid with interests by the EU population in the form of cuts to essential social programmes and infrastructure. Like after the 2008 crash, access to funds is tied to structural "reforms." Member states must first submit national reform plans to the EU. If any member state considers that austerity policies are not proceeding quickly enough in another state, it can enforce an "emergency brake" on the funds. The brake is limited to a maximum of three months, while the EU Commission decides whether the "reforms" go far enough. The "structural reforms" overseen in Greece over the past decade by the Troika—the International Monetary Fund, the European Central Bank and the EU—are to be extended across Europe to repay the money handed out to the banks.
'Shrinking' Horizon as EU leaders cut R&D funding even as researchers fight pandemic
Research and health emerged as the biggest losers following a marathon four days of negotiations by EU leaders on the bloc's €1.1 trillion (US$1.3 trillion) 2021 - 2027 budget and the formation of a €750 billion (US$872 billion) pandemic recovery fund. Rather than €94.4 billion over the nex…
Horizon Europe so receives a huge cut from the €94.4bn total proposed by the Commission. In current prices, that is less than the current program, Horizon 2020, which draws to a close at the end of the year. From 2014 – 2020, research got 7.1% of the overall EU budget; for 2021 – 2027, research is in line for just 4.5%. The final conclusions bring the total EU budget 2021-27 at €1.82 trillion.
Kurt Deketelaere, secretary general of the League of European Research Universities, said Michel's proposal was a "complete disgrace" that disregarded the "enormous added value" of the EU investing in research and innovation. He said the cut was a "complete contradiction" given the EU's stated goals to push for further digitisation of societies and economies and for greater environmental sustainability, among other knowledge-driven objectives relating to Covid-19. "Research and innovation policy is going to be crucial for everything it needs to realise [the EU's ambitions]," Deketelaere said, adding that Michel was a "weak president" who "gives up everything to get a deal".